At Two Extremes of a Housing Market
---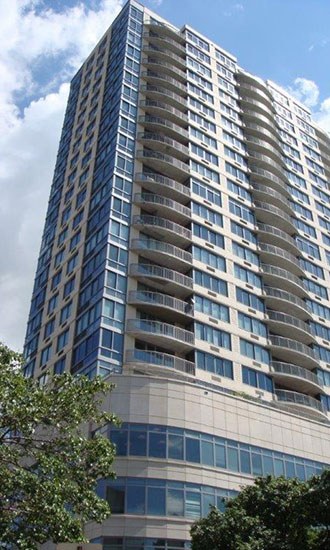 By ANTOINETTE MARTIN
NEW BRUNSWICK
TWO new condominium developments are under way in this university town that are aimed at serving opposite ends of the housing market - from the sublime to the "affordable," one might say.
Both are being built on formerly forsaken sites by developers with deep decades-old roots in the community.
Boraie Development, founded by Omar Boraie, an Egyptian immigrant who came to New Brunswick 40 years ago to get his Ph.D. in chemistry before hearing the siren call of real estate, is putting up a New York-style apartment tower at One Spring Street downtown.
"This is going to be super-high-end," said Wasseem Boraie, one of two Boraie sons who are partners in the company. "There is nothing else that rivals this in New Jersey. Our architect is Costas Kondylis & Partners, the firm that does all of Donald Trump's buildings in New York City, and our tenants are going to be a who's who of this area."
Some blocks away, on the site of a former junkyard near Elmwood Cemetery, Jack Morris, the founder of Edgewood Development and a child of working-class New Brunswick, is working with the city to build 190 lower-end condos and town homes; 85 are to be sold for less than market rate to qualified buyers.
"This will be housing for people I know, people I grew up with," Mr. Morris said, as he surveyed the land now being cleared of old oil tanks, building foundations, boulders and gnarly tree roots. "This is for firemen, teachers, people who earn a normal salary. I'm already getting a lot of calls, and it touches my heart."
The elder Mr. Boraie can remember how the neighborhood around the site of the new apartment tower he is building was burnt out and derelict looking for decades after race riots in 1968 wreaked devastation.
In 1985, he built a two-tower commercial building at 120 Albany Street near the corner of Spring Street, and "it was still sort of a gamble," he said. Only the enduring presence of the pharmaceutical giant Johnson & Johnson, whose headquarters are across Albany Street, allowed him to make the leap of faith, Mr. Boraie said.
Today, he can stand in a windowed hallway of 120 Albany Street - where Boraie Development has its headquarters - and point to an array of commercial structures he owns nearby and survey progress on the 25-story residential tower under construction.
One Spring Street will house 120 one-, two- and three-bedroom apartments, each with floor-to-ceiling windows and full balconies. The majority of apartments will be two-bedroom units, available in several designs, and priced from $400,000 to the mid-$500,000's, Wasseem Boraie said. Prices for one-bedroom units start at $350,000, he said, and three-bedroom penthouses are priced well above the other units, he added.
Sales began three weeks ago, and many condos have already been spoken for, he said.
The apartment tower will have its own fitness center. In addition, a glass-enclosed pool and community garden will grace the roof of an attached seven-story garage with 425 parking spaces. The tower and roof gardens will offer views of the Raritan River four blocks east.
AT Fulton Square, Mr. Morris said, environmental cleanup work is nearly complete, and construction will begin this spring. Plans call for 13 three-story buildings of varying sizes with brick-accented exteriors and bay windows. Each unit will have a balcony and built-in one-car garage.
New Brunswick's mayor, Jim Cahill, said the Fulton Square plan is in line with a move the city made several years ago to begin "blending" market-rate and so-called Mount Laurel units in redevelopment projects.
A state court decision on a lack of fair housing in the town of Mount Laurel, N.J., led to requirements that developers provide a certain percentage of "affordable" units in larger residential housing projects or else "trade" that obligation with a financial contribution to a state fund for subsidizing such units so they could be included in some other project.
"In New Brunswick, the process has worked extremely well," Mr. Cahill said.
Mr. Morris is also working on a proposal to put housing on a piece of redevelopment property on Jersey Avenue at Handy Street, where a new Walgreens drugstore and the foundation for a bank building have already been installed. That property backs up to the Penn Central railroad tracks that Mr. Cahill said he grew up "on the wrong side of," in the neighborhood where Mr. Morris's uncle owned a tire store.
Mayor Cahill said both developers had demonstrated long-term and particular interest in New Brunswick.
"Both Boraie and Edgewood have helped take underutilized parcels and turn them into high-quality products," he said, "and both continue to come up with exciting ideas for the city's future."